Olasılıksız
by Azra İlayda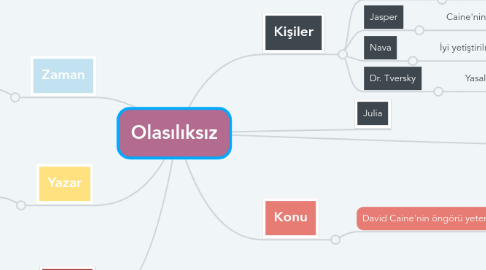 1. Julia
2. Dr. Tversky'in öğrencisi ve Dr. Tversky'in deneylerinde kobay olarak kullanılıyor.
3. Konu
3.1. David Caine'nin öngörü yeteneğinin ona yaşattıkları.
4. Tema
4.1. Olasılık ve hayat
5. Zaman
5.1. 1990lar sonu 2000ler başı
6. Kişiler
6.1. David Caine
6.1.1. Epilepsi ataklarına sahip olasılık uzmanı
6.2. Jasper
6.2.1. Caine'nin şizofreni hastası olan ikizi.
6.3. Nava
6.3.1. İyi yetiştirilmiş bir ajan.
6.4. Dr. Tversky
6.4.1. Yasal olmayan yollarla, geleceği öğrenmek için insanlar üzerinde deneyler yapan doktor.
7. Yazar
7.1. ADAM FAWER
7.1.1. (1970, New York), Amerikalı yazar. İlk romanı, Olasılıksız, tüm dünyada birçok dile çevrildi ve 2006 yılında International Thriller Writers ödülüne layık görüldü. İkinci romanı, Empati, 2008 yılında İngilizce yayımlanmadan önce, Türkçe, Almanca ve Japonca dillerinde yayımlandı. Fawer, University of Pennsylvania'da lisans ve yüksek lisans eğitimini tamamlamış, Stanford Graduate School of Business'da da MBA yapmıştır. Kariyeri boyunca, Fawer, Sony Music, J.P. Morgan ve about.com gibi yerlerde çalışmıştır.