TECH-KNOWLEDGE BUILDING FOR STAFF
by Gurleen Dhillon - Robert J Lee PS (1405)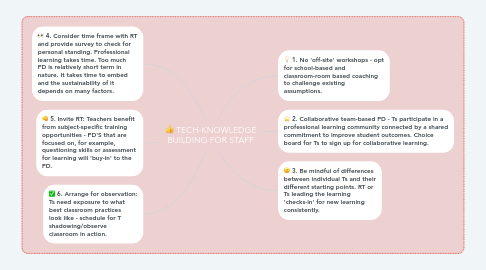 1. 1. No 'off-site' workshops - opt for school-based and classroom-room based coaching to challenge existing assumptions.
2. 2. Collaborative team-based PD - Ts participate in a professional learning community connected by a shared commitment to improve student outcomes. Choice board for Ts to sign up for collaborative learning.
3. 4. Consider time frame with RT and provide survey to check for personal standing. Professional learning takes time. Too much PD is relatively short term in nature. It takes time to embed and the sustainability of it depends on many factors.
4. 5. Invite RT: Teachers benefit from subject-specific training opportunities - PD'S that are focused on, for example, questioning skills or assessment for learning will 'buy-in' to the PD.
5. 6. Arrange for observation: Ts need exposure to what best classroom practices look like - schedule for T shadowing/observe classroom in action.
6. 3. Be mindful of differences between individual Ts and their different starting points. RT or Ts leading the learning 'checks-in' for new learning consistently.