Thermische eigenschappen
by E.A. van Dijk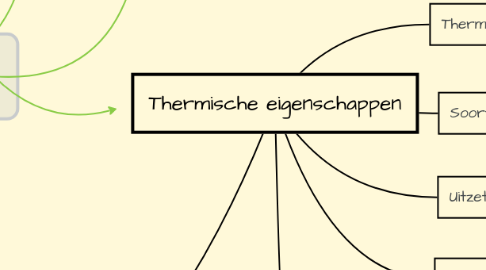 1. PAr 4.1 Optische eigenschappen
2. inwendige energie
3. Kinetische Energie
4. Potentiele Energie
5. Temperatuur
6. Schaal
7. Kelvin
8. Celcius
9. Thermometer
10. onderlinge afstand
11. Molecuulmodel
12. lichtsnelheid
13. Brekingsindex
14. Fase
15. Overgangen
16. Druk (gassen)
17. Hoeveelheid stof
18. Thermische geleidbaarheid
19. Soortelijke warmte
20. Uitzettingscoefficient
21. Smelt en kookpunt
22. Tripelpunt
23. Gaseous (g)
24. Liquid (l)
25. Solid (s)
26. Par 4.3 warmte overdracht over een afstand / tijd
27. Par 4.4 Warmte uitwisseling met bijbehorende temperatuursverandering.
28. Par 4.2 lengte of volumeverandering door warmtetransport of temperatuurwijziging
29. Par 4.2 fase overgang door verandering in druk temperatuur of warmte uitwisseling
30. Snellius
31. Zeer bijzondere combinatie druk/temperatuur
32. (s), (l) en (g) tegelijk!
33. Par 4.5 Algemene gaswet: invloed van kracht, druk, hoeveelheid stof, temperatuur en Volume op elkaar.
34. PAr 4.2 Thermische omgevingsfactoren
35. STOF