A Brief History of the Catholic Church by Anthony Sacco
par Anthony Sacco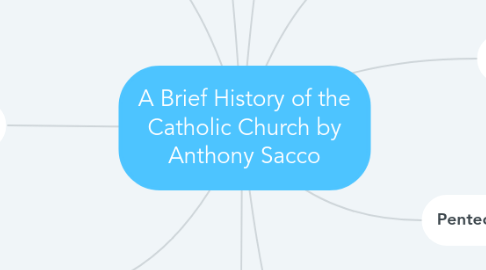 1. Edict of Milan
1.1. Freedom of religion to all
1.2. Christian Persecution ends
2. Ascension of Christ
2.1. Christ leaves apostles with directions for the faith
2.2. baptize and evangelize
3. Pentecost
3.1. The Holy Spirit descended upon the apostles
3.2. Outward evangelization by the apostles
4. First Crisis
4.1. Allowing Gentiles to become Christian
4.2. Should they be made to follow the Jewish faith as well.
4.3. Paul states that Christ is the essence of the church not obedience to the Jewish law.
5. Period of Persecution
5.1. St. Stephen first to be martyred.
5.2. St. Peter crucified up-side down
5.3. St. Paul beheaded
5.4. beliefs of Christians conflicted with the pagan beliefs of the Roman Empire.
6. Nero's Rule
6.1. Christianity outlawed
6.2. Burned and fed to lions and dogs
7. After Crucifiction
7.1. Disciples feard for themselves
7.2. Hopes crumbled and felt helpless
8. After Ressurection
8.1. A feeling of new hope
8.2. Starting point of Christian Faith
9. Emperor Diocletion
9.1. Worst period of Persecution starting in 292AD
9.2. Divided Roman Empire into Eastern and Western divisions
9.3. Led to war between Constantine and Maxentius over the rule of the entire Empire
10. Constnatine's Vision/Victory
10.1. Constantines wins war and unifies the Roman Empire
10.2. Converts to Christianity
10.3. Issues Edict of Milan