SECURITY TROUBLESHOOTING AND SOLUTION
par Emerald Lords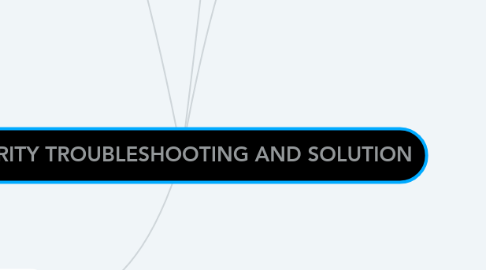 1. PROTECTION PHYSICAL EQUIPMENT
1.1. security patches
1.2. service packs
1.2.1. Packs and patches are interim releases of the operating system and some application.
1.2.2. Service pack is rigorously regression tested against all other patches and known applications.
1.3. security hardware
1.4. Examples of Physical threats
1.4.1. natural disasters (floods, earthquake, and tornados
1.4.2. Other environmental conditions (e.g., extreme temperatures, hifg humidity, heavy rains)
1.4.3. Intentional acts of destruction (e.g., theft, vandalism)
1.4.4. Unintentionally destructive acts (e.g., spilled drinks,overloaded electrical outlet.)
1.5. Physical Security activities
1.5.1. Dont use unnecessary interest in your critical facilities.
1.5.2. maximize structural protection.
1.5.3. Be particularly careful with non-essential materials in a secure computer room.
1.5.4. Protect cabling, plugs and other wires from foot traffic.
1.5.5. Keep a record of your equipment.
1.5.6. Limit and monitor access to equipment areas.
2. MALICIOUS SOFTWARE PROTECTIONS PROGRAMS
2.1. what is malicious software?
2.1.1. any malicious program that causes harm to a computer system or network
2.2. run virus and spyware scanning to detect and remove unwanted software
3. BASIC TROUBLESHOOTING PROCESS FOR SECURITY
3.1. Identify the problem
3.1.1. A list of open and closed-ended questions is useful
3.2. Establish a theory of probable cause
3.2.1. List out the common problems
3.3. Test your theories to determine the cause of the problem
3.3.1. Determine the cause of the problem
3.4. Establish a plan of action to resolve the problem and implement the solution.
3.5. Verify full functionality.
3.5.1. Perform a full re-scan of the computer
3.6. Document your findings, actions, and outcomes
3.6.1. log can be useful for future reference
3.7. COMMON PROBLEMS AND SOLUTION FOR SECURITY
3.7.1. unknown assets on the network
3.7.1.1. there are many businesses that don't have a complete inventory of all of the it assets that they have tried into their network
3.7.2. abuse of user account privileges
3.7.2.1. 60% of all attackers were carried out by insiders
3.7.3. unpatched security vulnerabilities
3.7.3.1. the more often the exploit is used ,the more likely it is to get discovered and patched
3.7.4. a lack of defense in depth
3.7.4.1. just how much damage this attacker will be capable of depends on how the network ia structured
3.7.5. not enough it security management
3.7.5.1. when it happens,critical cybersecurity alerts may get missed ,and succesful attacks may not be eliminated intime to minimize damage
3.7.6. data backup in windows
3.7.6.1. loaing data because of a computer problem or a hard disk crash is discouraging
4. PROTECT AGAINST MALICIOUS SOFTWARE
4.1. MALICIOUS SOFTWARE PROTECTIONS PROGRAMS
4.1.1. spyware protection
4.1.2. virus proctection
4.1.3. ADWARE PROTECTIONS
4.1.4. PHISING PROTECTION
4.1.5. rogue antivirus
4.1.6. remediating infected
4.2. SIGNATURES FILE UPDATES
4.2.1. virus,spyware and adware detection programs look for patterns in the programming code of the software in a computer