SALVADOR DALÍ
저자: Jaime Aguirre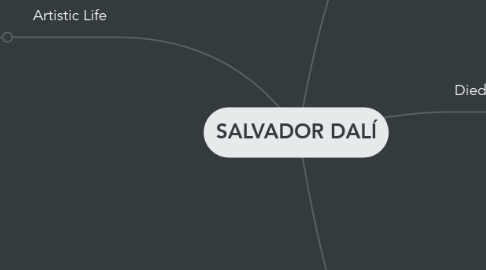 1. Born May 11, 1904.
1.1. Birth Name: Salvador Domingo Felipe Jacinto Dalí i Domènech
1.1.1. Birth Place: Figueres, Catalonia, Spain
1.2. Son of:
1.2.1. Salvador Dalí y Cusi
1.2.1.1. Lawyer and notary
1.2.2. Felipa Domenech Ferres
1.2.2.1. Soft loving mother who encouraged Dalí on his art.
1.2.2.2. Died of breast cancer, when Dalí was sixteen years old.
1.3. Older sibling died of gastroenteritis at an early age.
2. Known for his surrealist work.
2.1. He was an artist with notable skills on:
2.1.1. Painting
2.1.1.1. "The Persistence of Memory" (1931) Oil on Canvas
2.1.2. Photography
2.1.2.1. "Dalí Atomicus" (1948) Gelatin silver print. This was a collaboration he did with american photographer Philippe Halsman.
2.1.3. Drawing
2.1.3.1. "Brothels" (1922) Indian Ink and gouache on Ingres paper.
2.1.4. Sculpture
2.1.4.1. "Horse Saddled with Time" (1980) Bronze.
2.1.5. Writing
2.1.5.1. "Un Chien Andalou" or "An Andalusian Dog" (1929) Silent Film. Wrote Screenplay next to movement companion, Luis Buñuel.
2.1.6. Film
2.1.6.1. "L'Age d'Or" or "The Golden Age" (1930) Comedy. Wrote and co-created film with director Luis Buñuel, just as he did in his last short film.
3. Artistic Life
3.1. Went to "Academia de San Fernando" in Madrid. (1922)
3.1.1. Influenced by movements like Cubism and Metaphysics.
3.1.1.1. Partially participated on the post-war movement called Dada, that rised because of the Great War.
3.1.1.1.1. From 1926 to 1929, Dalí made multiple trips to Paris meeting important artists like Pablo Picasso, Joan Miró, Paul Éluard and René Magritte. They all together guided him into Surrealism.
4. Died January 23, 1989
4.1. Forced to stop painting caused by a motor neuron disease,
4.1.1. His wife and children died, making Dali's time are perfect.