Technology Review: MindMeister
por Keylie Williams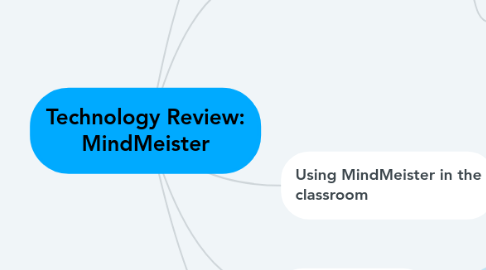 1. What is MindMeister?
1.1. MindMeister is a free online mind mapping and brainstorming Editor. It was launched in 2007 and can be used on a desktop, Apple or Android.
2. What is a Mind Map?
2.1. "Mind mapping is a highly effective way of getting information in and out of your brain. Mind mapping is a creative and logical means of note-taking and note-making that literally "maps out" your ideas"- www.mindmapping.com
3. Using MindMeister in the classroom
3.1. MindMeister is fairly simple to use. Younger students with the assistance of a teacher can use this technology to do presentations and share them with their classmates. Older students can use MindMeister to take notes, to brainstorm essays, to do projects or presentations like this one.
4. Positive Aspects
4.1. MindMeister is great for organizing thoughts and schedules. 4.3 stars at the iStore and 3.8 stars at the Playstore
5. Negative Aspects
5.1. Almost all the negative reviews for MindMeister seem to be that it didn't help people become more organized. General these people had bought an upgrade and after a couple of months requested a refund. The main complaint was that it was had for them to get their refunds.