PAYING ATTENTION
por Kimaya More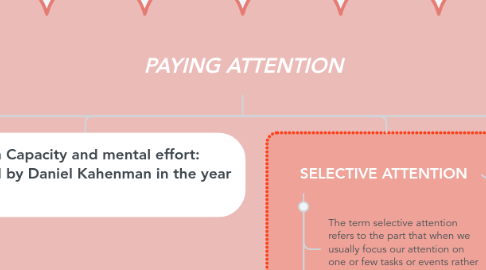 1. DIVIDED ATTENTION
1.1. If attention is flexible system for allocating resources, and if tasks differ in amount of attention they require , then people should be able to learn to perform two tasks at once.
1.2. Dual tasks performance : proposed by Spelke, Hirst and Neisser in the year 1976.
1.3. The Psychologist Refractory Period (PRP): proposed by Pashler in the year 1993.
1.4. Divided attention outside the laboratory : Cell phone Usage While driving : citied by Strayer & johnston in the year 2001.
2. AUTOMACY AND THE EFFECTS OF PRACTICE
2.1. Automaticity is the ability to do things without occupying the mind with the low- level details required , allowing it to become an automatic response pattern or habit. It usually is the result of learning , repetitions and practice.
2.2. The Stroop Task : Effects of Practicing on the performance of cognitive tasks given by John Ridley Stroop in the year 1935.
2.3. Automatic versus Attentional (controled) Processing : proposed by Posner and Snyder in the year 1975 and offered 3 criteria for cognitive processing to be called automatic processing
2.4. Feature Integration Theory proposed by Anne Treisman in 1989.
2.5. Attentional Capture: Certain stimuli cause and involuntary Shift of Attention Proposed by Pahler , Johnston & Ruthruff in 2001. The term attentional capture , which implies that the stimulus somehow automatically attracts the Perceiver's attention Proposed by Yantis & Egeth in the year 1999.
3. The attention Hypothesis of Automatization work by Logan, Taylor & Etherton, 1996.
4. Attention Capacity and mental effort: Proposed by Daniel Kahenman in the year 1973.
5. SELECTIVE ATTENTION
5.1. The term selective attention refers to the part that when we usually focus our attention on one or few tasks or events rather than on many.
5.2. Attenuation Theory :Proposed by Anne Treisman in the year 1960.
5.3. Late Selection Theory Proposed by Deutsch & Deutsch in the year 1963 and later extended by Norman in 1968.
5.4. Schema theory Proposed by Ulrich Neisser in the year 1976.
5.5. Inattentional blindness proposed by Simons , Nevarez & Boot n the year 2005.
6. Neuroscientific studies of Attention.
6.1. Cognitive Neuroscientists are interested in Examining which areas of the human brain are active when a person is Attending to a Stimulus or event.
6.2. Network of Visual Attention : Posner and Raichle Proposed 3 networks or systems in the year 1994.
6.3. Event- Related Potentials and Selective Attention : Banich Proposed this is the year 1997 and described the methodology of a typical study.